"Your art is what you do when no one can tell you exactly how to do it. Your art is the act of taking personal responsibility, challenging the status quo, and changing people"
As an organization we think it is essential to provide smart energetic solutions that makes possible a sustainable development for our society. Doubtless, quality and human squad represent the main tools to reach that aim. We have a firmly compromise of improvement day by day, providing ideas, opinions, showing points of view... We all win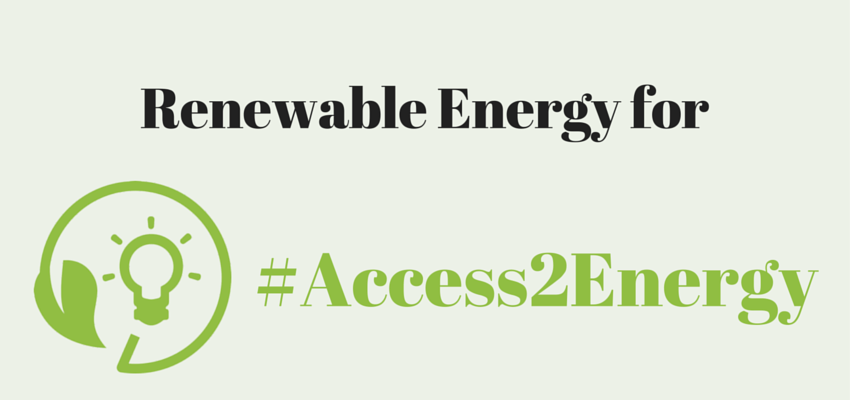 Renewable energy for access to energy

Reliable and affordable sources of energy are fundamental for economic growth and poverty reduction. One of the biggest issues that developing countries need to address is the lack of access to energy of a large proportion of population. About 1.3 billion people are without electricity, 84% are in rural areas.
Electrify Africa in 10 Years? No Problem Says Head of AfDB
October 27, 2015
The African Development Bank's (AfDB) new president wants to bring electricity to the poorest parts of the continent within a decade and says he can mobilize $55 billion a year to make it happen. At least 620 million people have no access to power, including vast populations in war-torn countries such as South Sudan, Somalia and the Democratic Republic of Congo.
Spain Approves 'Sun Tax,' Discriminates Against Solar PV
October 27, 2015
Spain's government has recently approved a new national law on self-consumption of energy that taxes solar installations disproportionately. Most notably, the majority of self-consumers will be also taxed for the electricity they generate and consume in their premises, via their own PV systems.
Synthetic batteries for the energy revolution
October 27, 2015
A team of researchers made a decisive step towards a redox-flow battery which is simple to handle, safe and economical at the same time: They developed a system on the basis of organic polymers and a harmless saline solution. The new redox-flow battery can withstand up to 10,000 charging cycles without losing a crucial amount of capacity.
As Oil Industry Bleeds Jobs, Asia's Green Energy Drive Offers Bright Spot
October 27, 2015
The fresh opportunities come as the oil sector is suffering its worst downturn since the late 1990s, encouraging engineering students to rethink their options and even mid-career switches for some who have spent more than a decade in the oil sector.
Solar tower: the highest construction in Europe

The Solar Tower is an invention that generates electricity thanks to a glass surface of 3 km in diameter located at the base of the tower. This surface heats the air which then rises through the 750 meters of the tower moving the turbines that are inside and producing electricity. It will generate about 40 megawatts of electricity.
¿Did you know...?

In Barcelona there is a self-sustaining park that uses energy from solar panels installed on the building's roof to charge the batteries of electric cars. With an area of 500 m2, this eParking framed in the Green Motion initiative has 24 charging points of 3.7 kW and employ between five and eight hours to fully recharge the battery of an electric car. And all with the sun's energy.
World Science Day for Peace and Development

More than ever, in this new age of limited resources, we need to nurture the boundless energy and creativity of young women and men to tackle complex new challenges. Quality science education is vital for this, to lay the foundations for a more sustainable future for all.